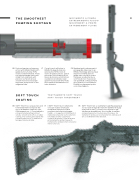 EN All STF/12 barrels are produced with deep drilling technology
out of solid steel bars of nickel chrome molybdenum. This technology allows the molecular structure of the steel to remain intact during the manufacturing of the barrels. The barrels, thus having none of the tension inevitably generated by the process of cold forging, remain perfectly rectilinear during the phase of silver soldering the components of the barrel at temperatures of over 700 degrees. The advantage
of this production process explains why there is today no pump shotgun with a such extreme accuracy level.
DRILLING TECHNOLOGY
FORATURA DELLE CANNE FORAGE DES CANONS
IT Tutte le canne STF/12 sono forate dal pieno, da barre d'acciaio al nickel cromo molibdeno. Questa tecnologia permette di mantenere intatta la struttura molecolare dell'acciaio durante la fabbricazione dei tubi. I tubi non hanno quindi l'inevitabile tensione generata dal processo di martellatura a freddo, restando perfettamente rettilinei durante la fase di saldatura all'argento dei componenti della canna a oltre 700 gradi. I vantaggi di questo processo di produzione spie- gano le ragioni per cui ad oggi nessun fucile a pompa o re un tale livello di precisione.
FR Tous les canons STF/12 sont produits par forage hors masse
de barres d'acier au nickel chrome molybdène. Cette technologie permet de maintenir intacte la structure moléculaire de l'acier pendant la fabrication des tubes. Les tubes n'ayant ainsi pas les tensions inévitablement générées par le procédé de martelage à froid, ils restent parfaitement rectilignes durant la phase de soudure à l'argent des composants du canon à plus de 700 degrés.
Les avantages de ce processus de production expliquent les raisons pour lesquelles il n'y a à ce jour aucun fusil à pompe
avec un tel niveau de précision.