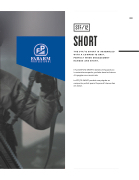 SOFT TACTICAL BAG
Product No: E-621
EN A quick, convenient, and highly functional storage solution for your STF/12 shotgun. Made in strong 600 D polyster, it has reinforced handles and two compartments with equipped with straps ; an integrated padded divider prevents your shotgun
or accessories from dings scratches Dimensions mm. 860 x 260
(33,85 " x 10,2").
1 POINT TACTICAL SLING
Product No: E-622
1 POINT TACTICAL SLING
Product No: E-623
3 POINTS
TACTICAL SLING
Product No: E-624
IT Una soluzione rapida, adeguata e perfettamente funzionale alla protezione
del vostro fucile STF/12. Confezionata in Poliestere 600 D molto resistente, ha maniglie rinforzate e due scomparti con fasce in velcro. Una divisoria imbottita evita il contatto tra il fucile e tutti i suoi accessori.
Dimensioni mm: 860 x 260
(33,85 " x 10,2").
FR Une solution rapide, adaptée et parfaitement fonctionnelle pour protéger votre fusil STF/12. Réalisé en Polyester 600 Deniers très robuste, il a des poignées renforcées et deux compartiments équipés de brides avec velcro. Un diviseur rembourré protège votre fusil et ses accessoires de chocs entre eux. Dimensions : 860 mm x 260 mm
(33,85 " x 10,2").