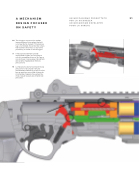 STF/12 COMPACT 11  '' NICKEL INITIAL
STF/12 COMPACT VIPER 11''
EN The large "one-hand" quick release button allows the butt stock to instantly fold, even when wearing gloves.
IT L'ampio pulsante permette di chiudere il calcio istantaneamente, con una sola mano, anche in caso di guanti indossati.
FR Le large bouton poussoir permet de plier la crosse en un instant, avec une seule main et ce même en cas d'utilisation de gants.