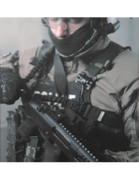 EN Fast and precise cycling pump action with ERGAL
55 (aircraft-grade Aluminum alloy 7075) inserts inside
the forend. These two hard-anodized inserts are milled from solid block with precision surface to ensure smooth functions and proper alignment pump action on the magazine tube.
IT Con gli inserti nell'astina in ERGAL 55 (lega di alluminio aeronautico 7075) il ciclo di riarmo è rapido e preciso. Questi due inserti sono otte- nuti da un blocco di alluminio e trattati con ossidazione anodica dura per garantire
un azionamento  uido ed un perfetto allineamento sul tubo serbatoio.
FR Rapide et précis réarmement à pompe grâce à des inserts en ERGAL 55 (Alliage aéronautique d'aluminium 7075 ) dans le garde-main. Ces deux inserts traités par anodisation dure sont fraisés hors-masse avec une qualité de surface parfaite pour garantir un coulissement  uide et un alignement précis sur le tube magasin.
EN The shotgun construction makes impossible any  ring when the bolt is not perfectly closed. If the locking lug is not locked, the action bar stops the hammer which has no more the possibility to come on the  ring pin.
IT Il meccanismo dell'arma rende impossibile lo sparo se l'otturatore non é in completa chiusura. Se l'arma non é chiusa, il cane viene intercettato dal carrello impedendo di fatto la percussione.
FR Le mécanisme de l'arme interdit toute percussion si la
culasse n'est pas parfaitement fermée. Si le verrou n'est
pas en position verrouillée, le bras de commande stoppe le mouvement du chien, lequel ne peut pas atteindre le percuteur.
EN The STF/12 shotguns
are guaranteed by the manufacturer for a period of 3 years.
IT I fucili STF/12 sono garantiti dal fabbricante per il periodo di 3 anni.
FR Les fusils STF/12 sont garantis par le fabricant pour une période de 3 ans.