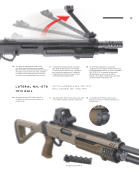 EN The STF/12 is equipped with a long mm.390 free  oating and removable MIL-STD 1913 rail at the 12 o'clock position. The ghost sight and front sight, studied for elevation and deviation corrections, can be instantly detached from the rail.
SOFT TOUCH
EN SOFT TOUCH is a unique stock and forend treatment to improve the grip
in all weather conditions (rain, cold temperature ...). Once treated, a composite material feels almost
velvety smooth and soft as a rubber coating. This coating also makes the composite less noisy, in addition to being extremely durable.
FR Le STF/12 est équipé sur sa partie supérieure d'un long rail Picatinny  ottant
et détachable de 390 mm, rail au standard MIL-STD 1913. La dioptre et le guidon, dével- oppés pour pouvoir ajuster la hauteur et le déport latéral peuvent être instantanément retirés du rail.
FR SOFT TOUCH est un revêtement spéci que appliqué sur la crosse et le garde-main a n d'améliorer le grip et la prise en main, y compris sous la pluie ou par très basses températures. Ainsi traitée, la matière composite prend un toucher caoutchouteux. Ce traitement rend aussi le
composite très silencieux et est un revêtement
très résistant.
IT Il fucile STF/12 è dotato di una slitta MIL- STD 1913  ottante e rimovibile. La tacca di mira ed il mirino, sviluppati per consentire regolazioni in altezza e deviazione, possono essere rimossi istantaneamente dalla slitta.
IT Il SOFT TOUCH è un trattamento unico per il calcio e l'asta per aumentare la presa in tutte le condizioni atmosferiche (pioggia, freddo ...). In seguito al trattamento il materiale composite risulta vellutato e morbido al tatto come fosse ricoperto di gomma. Oltre ad essere estremamente resistente questo trattamento rende
anche il composite meno rumoroso.