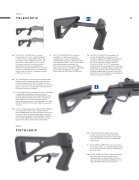 EN INCREDIBLE LONG-RANGE
PRECISION
The STF/12 barrel with its MEDIUM contour provides an incredible long-range precision. All these tests with scope have been made at the distance of 50 meters (54,70 yard) with the best premium slug ammunitions... reaching the impressive result of 3 impacts in less than a two inches group at 55 yard !
IT PRECISIONE
IMPRESSIONANTE SULLA
LUNGA DISTANZA
La canna dell'STF/12 cromata internamente e con pro lo esterno maggiorato permette d'ottenere un'incredibile precisione sulle lunghe distanze. Tutti questi test sono stati e ettuati alla distanza
di 50 metri con ottica montata e con le migliori munizioni a palla... raggiungendo l'impressionante risultato di 3 impatti in meno di mm. 45 a 50 metri!
FR UNE INCROYABLE PRECISION
A LONGUE DISTANCE
Le canon avec son âme chromée et son pro l extérieur majoré permet d'obtenir une incroyable précision à longue distance. Tous ces tests, avec lunette de tir, ont été obtenus à la distance
de 50 mètres (54,70 yard) avec les meilleures munitions à balles... atteignant l'impressionnant résultat de 3 impacts dans 45 mm à 50 mètres !
EN The muzzle break reduces the recoil by redirecting the escape path of powder gasses to three directions perpendicular to the STF/12 barrel. It allows
the shooter to maintain an accurate site picture between shots.
IT Il muzzle break riduce il rinculo distribuendo la fuoriuscita dei gas della combustione in 3 direzioni perpendicolari. Garantisce al tiratore la possibilità di mantenere una posizione di tiro stabile.
FR Le frein de bouche réduit le recul en redirigeant
la sortie des gaz de combustion vers 3 directions perpendiculaires à l'axe du canon. Il permet au tireur de garder une position stable entre les tirs.
EN The STF/12 has a short, light, and crisp trigger pull for faster, more accurate shooting.
IT
Il fucile STF/12 ha uno scatto leggero e sensibile per
tiri più rapidi
e precisi.
FR Le STF/12 a des départs courts, secs et sans friction pour des tirs rapides et plus précis.