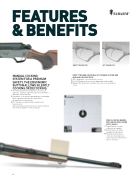 FEATURES & BENEFITS
         MANUAL COCKING SYSTEMFORAPREMIUM SAFETY. THE ERGONOMIC BUTTON ALLOWS SILENTLY
DIRECT TRIGGER OR DOUBLE SET TRIGGER SYSTEM ARE
AVAILABLE ON IRIS RIFLE.
IT IRISèdisponibileconscattodirettoostecher.
ES El rifle IRIS dispone de sistema de disparador simple o doble.
Карабин IRIS может иметь прямой спуск или систему двойного спуска.
COCKING OR DECOCKING.
IT Sistemadiarmamentomanualeperunasicurezza superiore. Il bottone ergonomico permette di armare o disarmare silenziosamente.
ES Sistema de cierre manual, apostando por la seguridad. Botón ergonómico que permite armartillar o desamartillar silenciosamente.
RUСистема ручного взведения для наибольшей безопасности.
Эргономичная кнопка позволяет бесшумно взводить или снимать карабин с боевого взвода.
RU
SET TRIGGER STG
  6
DIRECT TRIGGER DTG
FREE-FLOATING BARREL MANUFACTURED IN GERMANY WITH ADJUSTABLE FIBRE OPTIC SIGHTS.
IT Cannaflottanteprodottain Germania con mire in fibra ottica regolabili.
ES Cañon flotante fabricado en Alemania con miras ajustables de fibra óptica.
RUСвободно вывешенный ствол произведен в Германии и имеет регулируемые оптоволоконные прицельные приспособления.