Page 14 - Fabarm2018
P. 14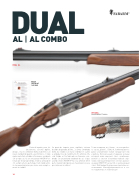 FEATURES & BENEFITS
CHOKE INNER HP
TRIBORE HP
EXTRA LONG FORCING CONE
IT Conodiraccordoextralungo ES Cono extra largo
RU
OVER BORED AREA: 18,7 MM
CONICAL AREA (205 MM) WHICH SLOWLY REDUCES THE BORE TO 18,4 MM
CYLINDRICAL AREA: 5 MM
IT Zonacilindricadi5mm ES Zona cylindrica de 5 mm
WITH A TRADITIONAL 12 GAUGE BARREL ( Ø 18,4 MM ) THE FRICTION OF THE SHOTS INSIDE OF
THE BARREL IS IMPORTANT. THESE SHOTS WILL BE DEFORMED AND WILL HAVE A LOST OF SPEED COMPARED TO THE SHOTS WHICH WERE IN THE MIDDLE OF THE BARREL. BY CONSEQUENCE, WITH A LARGE SPEED DIFFERENCE BETWEEN ALL THE SHOTS CONTAINED IN THE SHOTSHELL, THE DISTRIBUTION OF THE SHOTS IN FLIGHT IS VERY ELONGATED AND GENERATES PROBLEMS TO HAVE AN EFFICIENT AND ACCURATE SHOT.
IT Conunacannatradizionalecalibro12(Ø18,4mm)lafrizionedeipalliniall'internodellacannaèimportante:questi pallini vengono deformati ed hanno una perdita di velocità rispetto a quelli nella parte centrale della canna. Quindi, vista la grande differenza di velocità tra tutti i pallini contenuti nella cartuccia, la loro distribuzione in volo è molto allungata e non permette un tiro ef ciente ed accurato.
ES Con un cañon tradicional de calibre 12 ( Ø 18,4 mm) la fricción en el interior del cañón es importante. Los perdigones se deforman y sufrien una perdida de velocidad comparados con los que estan en mitad del cañón. Al existir una gran diferencia de velocidad entre todos los perdigones en el tubo cargador, la distribución de los tiros en el aire son muy alargadas y generan problemas que impiden un disparo e ciente y preciso.
RU С традиционным стволом 12 калибра (диаметр 18,4 мм) трение дроби внутри ствола очень актуально. Дробь будет деформирована и потеряет скорость, если сравнивать с их скоростью в середине ствола. Следовательно, при большой разнице в скорости между всеми дробинками, содержащимися в патроне, распределение дробинок в полете очень удлинено и создает проблемы, мешающие эффективному и точному выстрелу.
THE TRIBORE HP BARREL REDUCES THE FRICTION BETWEEN THE TUBE AND THE SHOTS. THE SPEED OF ALL THE SHOTS IS MUCH MORE UNIFORM SO THAT THE DISTRIBUTION OF THE SHOTS IN FLIGHT IS MUCH MORE CONCENTRATED. SO A TRIBORE HP IS MUCH MORE EFFICIENT, WITH MORE IMPACTS, WHEN YOU HAVE TO SHOOT BIRDS OR TARGET IN MOVEMENT.
IT LacannaTRIBOREHPriducelafrizionetrailtuboeipallini,quindilalorovelocitàèmoltopiùuniformeeladistribuzio- ne in volo più concentrata. La canna TRIBORE HP è così molto più ef ciente, con maggiori impatti quando devi sparare a volatili o ad un bersaglio in movimento.
ES El cañón TRIBORE HP reduce la fricción . La velocidad es mucho más uniforme para que la distribución del tiro en el aire sea mucho más concentrada. Un cañón TRIBORE HP es mucho más e ciente, con más impactos, cuando se tiene que disparar pájaros o de un objetivo en movimiento.
RU Ствол TRIBORE HP уменьшает трение между дробинками и каналом ствола. Скорость всех дробинок гораздо более равномерная и поэтому распределение дробинок в полете гораздо более сконцентрированное. Итак, TRIBORE HP гораздо более эффективен, имеет больше попаданий, когда Вы стреляете по птицам или движущейся мишени.
TRIBORE HP BARREL IS THE ONLY BARREL IN THE WORLD (OF COURSE IN ACCORDANCE WITH THE INTERNATIONAL CIP REGULATIONS) WHICH GIVES THE POSSIBILITY TO USE HIGH PERFORMANCE STEEL SHOT AMMUNITIONS IN CHOKE TUBES TIGHTER THAN MODIFIED (***, 1⁄2) , EVEN IN THE XTREME 0,9 CHOKE TUBE.
IT Parteconicadi205mmcheriduceprogressivamenteildiametroa18,4mm
IT Zonasovralesata:18,7mm
ES Anima: 18,7 mm
RU RU RU
ES Zona cónica de 205 mm que reduce progresivamente el diamétro a 18,4 mm
TRADITIONAL BARREL : 12 GA. Ø 18,4 mm L
FABARM TRIBORE HP 12 GA.
10 %
L - 10 %
14
IT La canna TRIBORE HP è l'unica canna al mondo (nel ES rispetto delle norme internazionali CIP) che dà la possibilità di utilizzare cartucce caricate con pallini
in acciaio "high performances" con strozzatori supe- riori al MODIFIED (***, 1⁄2), anche con lo strozzatore XTREME 0,9.
El cañon TRIBORE HP es el único cañon en el mundo RU Tолько стволы, обработанные по технологии
(de acuerdo a las normas CIP), que permite usar munición de perdigón de acero de "alta prestación" con chokes más ajustados que el MODIFIED (***,1⁄2), incluso en el choke XTREME 0,9.
TRIBORE HP позволяют использовать стальную дробь и дают высокие показатели при чоковых сужениях больше 1⁄2 и даже 0,9.